According to the digital statistics, social media activity experienced a major 50% surge in India in the wake of the global pandemic situation.
The good side of this spike in digital consumption of social media is that more brand awareness campaigns were triggered which helped the public across the nation to know about the importance of the lockdown as well as the precautionary measures to be taken during this time.
So, social media management has become vital for brands to keep their presence strong in Social channels. This helps the brands to build trusted relationships with their new & existing audience.
How to engage & build relationships with your customers through Social Media
1. Nurture your relationship with your customers
Brands have been engaging with their audience that they stand united during this situation and sharing quality information with them. Updates or tips on how to protect oneself and family have helped the audience to learn new things.
2. Brand awareness through social media
Sharing your products/services to your customers through gifs, videos, images, stories, memes, etc. This activity ensures brand recall and helps your brand to get registered in the minds of the audience.
3. Content strategy
Usage of content while sharing on social network platforms is very important. It helps the audience to take a decision in purchasing or showing interest in your products or services.
Creating content that your audience can resonate with in these times and share them with your audience. This improves your relationship with the customers.
4. Generate opinions
Ask opinions about your brand. What changes the customers are looking for in your products, taking constructive feedback, implementing it, etc makes your customers more loyal towards your brand.
Success Stories – How brands got closer to customers during the lockdown using Social Media
1. Brand – Indian Green Building Council
The Indian Green Building Council is an emerging brand in the field of Green Buildings. It has a wide array of services which include the development of new green building rating programs, green building training programs, and certification services.
They have a good online presence on different Social Networks like Facebook, LinkedIn, Twitter, Instagram, YouTube & Quora. During this pandemic situation, they were facing issues on conducting their events which were scheduled in the April & May months. Having a good online presence across various social media platforms has helped them to go things smoothly without any hurdles.
In fact they have achieved 100% growth in engagement for their different live sessions & received more queries from the architect, construction related background audience.
Engaging audience on social media platforms helped the brand to reach more right audience in this situation.
2. Brand – ICICI Bank
ICICI Bank is an Indian multinational banking and financial services in India. Here's how ICICI Bank is using the creative Social Media strategy in this lockdown situation
– Creating Specific Brand Hashtag
They have created #BankingOnYou hashtag. It was a smart move to say about the Bank and yet communicate how they trust every single customer. This is how they engaged with the customers by posting the hashtag based post on Social Media
– Games and Rewards
There were multiple games designed to reward customers when they did online transactions.
ICICI had started INDOOR ICON competition where people had to showcase the talent and were rewarded when they won.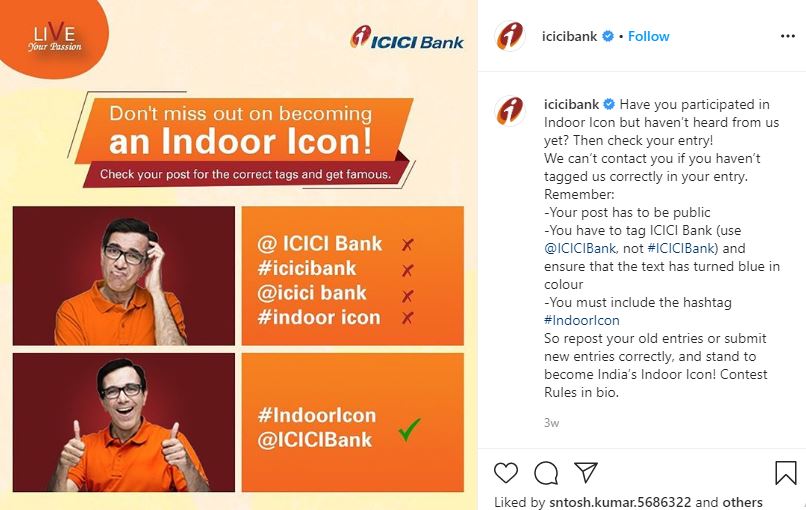 These are a few brands who have created good engagement with their customers through social media.
In conclusion, start engaging with your audience through Social Media Platforms and get closer to your customers.
Contact us to build a customized social media strategy for your brand.