Online Ads have become a crucial aspect of making any business have a good online presence, especially on the B2B front. This helps people know more about your business and give you access to your targeted audience.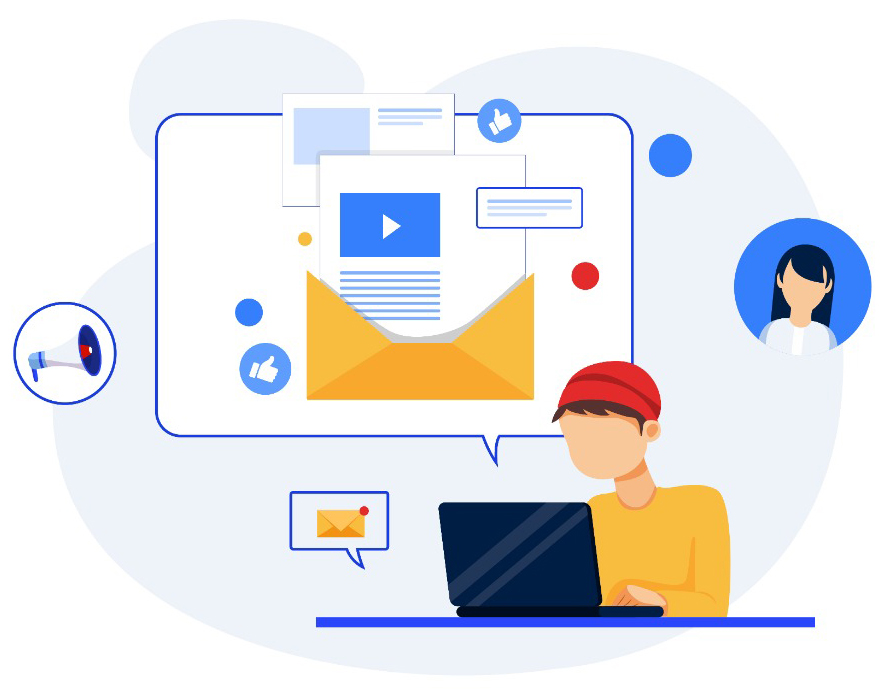 A complete LinkedIn business profile can help the business to expose their unique professional stories through skills, experiences, work, and clients. Through LinkedIn, businesses can set up offline events, join various groups, write inspiring blogs, share posts and videos to spread awareness, and more.
It has not only become a platform for networking and social recruitment but also a huge platform for running Ad campaigns, sharing content, and getting leads. LinkedIn has evolved as a robust tool for Ad campaigns.
Over these years, LinkedIn has become a powerful medium to build a network of potential clients and promote brands for all businesses.
Reach your ideal customers on the world's largest professional network.
4 of 5
LinkedIn members drive business decisions
2x
The buying power of average web audiences
#1
platform for B2B lead generation, rated by marketers
With 690 MN+ users, LinkedIn Ads help you to reach the right professional audience. It is extremely beneficial especially for B2B businesses due to the active presence of decision makers.
LinkedIn provides targeting based on the job title, occupation, industry, function, and more. With this, targeting decision-makers is easy!
LinkedIn is purely used for professional networking, due to which the ads carry a weight of authenticity compared to other platforms.
Reach your audience when they're most engaged
Boost registrations, drive conversions, or promote content with personalized messages delivered to prospects when they are active on LinkedIn.
Why do you need LinkedIn Ads Agency
Inmantech DGi specializes in generating visibility and leads for businesses using LinkedIn Ads. We will be targeting the right target audience for your business and optimize it for good quality leads for the best CPA.
Our LinkedIn Ad expert develops a strategy that best suits your business based on your objective
We will write the copy of the ad that is apt to the creative to create an impact to the viewer to take action
Our experts monitor the ad performance weekly and optimises it for the best results as per the budget. We make data-driven decisions for the best performance.
With a number of things to be taken care of in the business, business owners seldom have the time and knowledge to spend on ad campaigns. That is why they choose Inmantech to take care of their campaign.
How LinkedIn Ads help businesses
Sponsored content: Helps promote company's updates by boosting content to the right audience – Build awareness and leads.
Direct sponsored content: These Ads are native and are shown on the LinkedIn feed of our target audience.
Sponsored InMail: Through this, we can send messages to the LinkedIn members who are decision-makers.
Text Ads: These Ads contain short headlines with a square image that appears in the right rail. Quick to setup, we can get going in just minutes.
Image & Video Ads: These Ads can target people by job titles, industries etc, and can be shown in various formats.
One of the core strengths of LinkedIn Advertising is to support new businesses to generate effective leads and give tremendous growth to one's business for the same. This would be only possible when one is able to reach out to the targeted audience with ease and great precision…
We know that managing a social networking page and building social media marketing is a time-consuming task. Considering this, Let Inmantech be your LinkedIn ad service provider by providing you with everything you need.

We will set up a LinkedIn page

We will design and plan out a LinkedIn marketing campaign

We will develop engaging content for the LinkedIn ad campaign

We optimize your campaign to acquire leads at a low cost.
The only thing you need to do is check out the results. The rest is taken care of by the Inmantech expert group.
Some of the best LinkedIn statistics:

89% of B2B marketers use LinkedIn for Digital Promotion

4 out of 5 members in Linkedin are key decision makers

An average LinkedIn user has a yearly income of around $75K

LinkedIn has 690 million active users, which would help in building a huge customer base.

61% of LinkedIn users are between the age of 25 and 34 users.

57% of LinkedIn traffic is mobile users, which helps in accessing it where ever they are.
Launch your LinkedIn Campaign and increase your business.